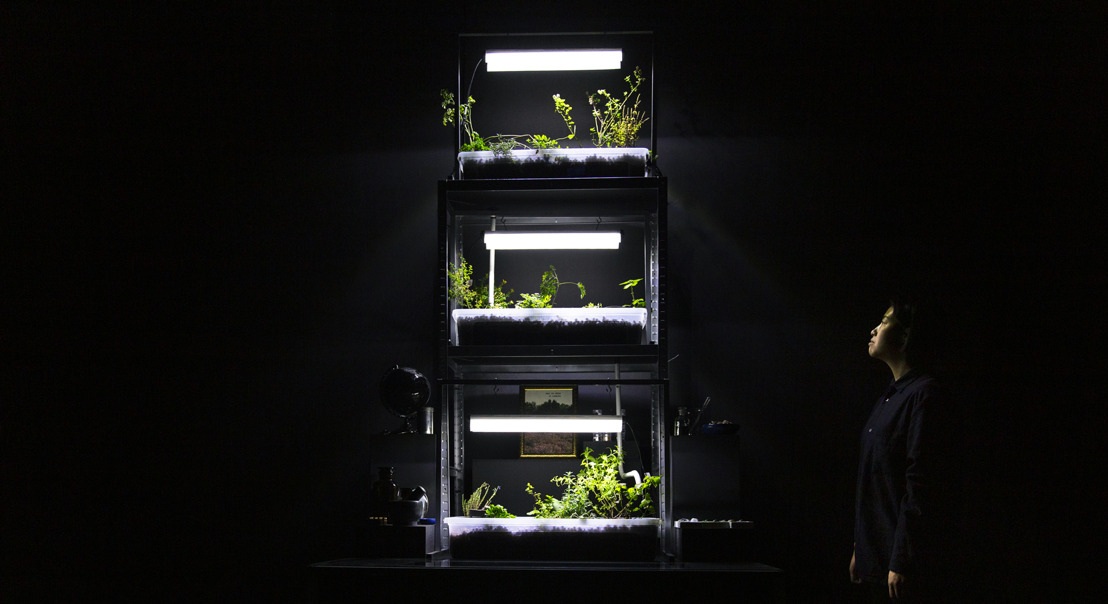 FORMAT. Changing Attitudes
Monday 16 September 2019 — Design and architecture are anything but gratuitous. The new edition of FORMAT centres on this crucial insight.
The laureates of the group exhibition are adopting an almost activist approach at Z33. With ground-breaking concepts, they challenge visitors to reconsider their attitudes to news, fashion, microbial clouds, herbal medicine, residual space, artificial intelligence, weaving techniques, ruins and radio masts. To this end, they have forged alliances with experts both within and outside their fields and they challenge us to rethink the classical methods of design.
Laureates FORMAT2019
Flora Miranda
Attraction and eroticism are important in fashion. But how do you evaluate in an item of clothing? Can that analysis contribute to a creative computer language that we can control as designers? These are the questions at the basis of Lalaland. The database contains fifty 3D scanned silhouettes. The computer uses elements from items of clothing to make new combinations independently. Are the digitally created pieces beautiful too? That is the risk Miranda is willing to take.
Legrand Jäger (Eva Jäger & Guillemette Legrand)
Our voice generates an infinite quantity of data every day that is recorded by microphones and cameras. You might think about it as the collecting of a high-resolution signature of our emotions. This duo researches the link between entertainment, being in the spotlight, and the vulnerable position of using your body and voice. The result is an interactive karaoke installation that the duo created in collaboration with Good Vibrations Company B.V., a software company that asks the same ethical questions.
Cream on Chrome (Martina Huynh & Jonas Althaus)
Time plays a crucial role in understanding news. 4D News is a 4D-newsroom where design and journalism coalesce. The alternative reporting system facilitates a critical perspective on two stories about migration: the 'Wir schaffen das' debate and the reporting on the Syrian city of Aleppo over the past thirty years. The installation interacts with the visitor and thus shifts his/her position from news consumer to news discoverer.
Inès Péborde Leverrier
For thousands of years, herbal medicine was the primary method of self-care, but this body of knowledge and these rituals are now gradually being lost. And yet the difference between the modern lab technician and the shaman is perhaps not as great as it may appear. The installation Neo-Herbalism shows 23 curative plant species that grow in Flanders. It tells all of their stories: from witchcraft to mainstream pharmaceuticals. Discover an alternative perspective on the botanical garden and a tool for self-care.
Matthijs De Block
We each have a microbial cloud, and its quality is determined by our natural surroundings. With a biodiverse cocktail of microbes, biohacker De Block brings the rich diversity of microbes from five woods in Flanders to city dwellers. To this end, he designed a new material to transmit microbes to visitors. This installation enables you as a visitor to adopt new and beneficial microbial species.
Sophia Holst
Each city has its share of non-places. These spaces are a by-product of architecture and are often neglected and forgotten. Nevertheless, they also have an important function. Holst discovered this over the course of her research in Brussels. Her work is a plea for the city as a safe haven, with space for rough edges and residual spaces that reflect society itself. Holst also collaborates with photographer Axel de Marteau, who researches atmosphere and the use of space in Brussels.
Amandine David
Weaving code breathes new life into the binary codes of weaving patterns from different cultures. A computer and loom are connected to one another and demonstrate that 3D printing and artisanry are not opposites. On the contrary. The basic computer language, the binary code 0-1, was developed from weaving. There are an infinite number of weaving codes and each culture has a different one.
Lukas Claessens
Ruins are mnemonics for anecdotes from history. The same is true of the remains of the church in the middle of the beguinage in Hasselt. Claessens has created a digital reconstruction of the stained-glass windows to evoke how light would originally fall in the church. He combines this recreation with 3D scans of the current ruin. The result is a recomposition of the church as it is now with the way it was lit until World War II.
Bert Villa
The radio mast is a silent witness, an object to which people pay no attention. And yet it has an interesting function: transporting sound. Villa rethinks the object and has built two outside antennae, one near Z33 and another that travels around Limburg. The two antennae are connected and they transmit the ambient sound. Sporadically, you can year radio sessions played by Villa and his artist friends. Instant and fleeting, like the medium of radio itself.
ABOUT FORMAT
FORMAT is the coaching trajectory organized by Z33 for new and promising artists working in design and architecture. Every year, several designers are given the opportunity to enhance their artistic practice and to share knowledge and networks with one another. After a year of intensive coaching, all the designs are brought together in a group exhibition. Time and space are essential components of this learning process, enabling the participants to explore boundaries and unconventional approaches. Z33 is a refuge where free experimentation, learning and failing come together.
The jury of FORMAT 2019: Jan Boelen (Z33), Teis De Greve (laureaat Toegepast 21), Siegrid Demyttenaere (DAMN°), Roel De Ridder (Architectuurwijzer), Christophe De Schauvre (Wanderful.design), Petrus Kemme (VAi), Bie Luyssaert (Flanders DC), Ruth Mariën (Onderstroom), Tim Roerig (Z33), Fabian Seibert (Designmetropole Aachen), Myriam Vanheusden (MIA-H) and Heleen Van Loon (Z33). The jury received more than eighty submissions from designers in a variety of disciplines, ranging from architecture and fashion to design in the broadest sense. The jury has selected nine laureates, two of whichwork as duos.
Practical information
From15.09 until 24.11.19 at Z33, Zuivelmarkt 33, 3500 Hasselt
Curator: Heleen Van Loon
Scenography: Bram Vanderbeke
Graphic Design: Janneke Janssen
Publication: Format 2019. Changing Attitudes, 2019, 272 blz. For sale at Z33, price: 5 euro.
Veerle Ausloos Pers en communicatie, Z33 - Huis voor actuele kunst