In the Eye of the Storm in Z33: Caraïbische kunstenaars reageren op de klimaatverandering
26.09.2021-23.01.2022
22 september 2021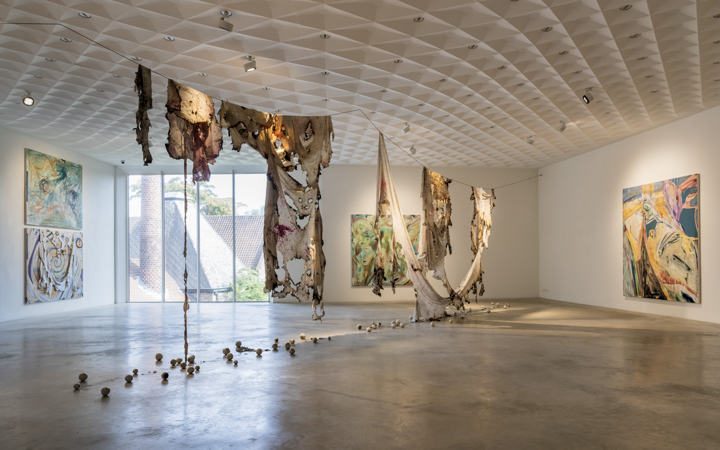 Z33 presenteert vanaf 26 september de groepstentoonstelling 'In the Eye of the Storm'. Aan de hand van werk van ruim 10 kunstenaars uit de Caraïben belicht deze tentoonstelling de impact van de klimaatverandering en hoe kunstenaars daarmee omgaan.
Klimaatverandering is overal. Toch is het vaak onzichtbaar in ons dagelijks leven. Het lijkt alsof we ons in het oog van de storm bevinden, een dreigende stilte omringd door een verpletterende wind. Dat beeld is letterlijk van toepassing op de Caraïben, waar orkanen zware schade aanrichten en een grote ongelijkheid blootleggen. Wat ooit een verre toekomst leek voor Europa, is daar de realiteit. Recente natuurrampen suggereren dat de toekomst nu is. Hoe reageren Caraïbische kunstenaars op de gevolgen? Hoe gaan ze over tot actie? Welke band hebben ze met hun omgeving? Die vragen staan centraal in de tentoonstelling In the Eye of the Storm.
Ruim tien kunstenaars uit o.m. Puerto Rico, Haïti, Barbados, Grenada, Guadeloupe en Martinique tonen in Z33 films, foto's, schilderijen, sculpturen en installaties. Elk van hen verkent de impact van letterlijke of figuurlijke stormen om zich heen. Daarnaast laten ze voelen wat hen aan een 'plek' bindt: gemeenschappen, rituelen, herinneringen of kennis van een gebied. De geselecteerde werken dragen bij aan een vernieuwde beeldtaal over klimaatverandering. De kunstenaars zoeken de poëtische confrontatie met het probleem op, in plaats van de stormen rechtstreeks af te beelden.
Deelnemende kunstenaars: Allora & Calzadilla, Candida Alvarez, Alvaro Barrington, Minia Biabiany, Ramiro Chaves & MAOF, Jean-Luc de Laguarigue, Daniel Lind-Ramos, Manuel Mathieu, Beatriz Santiago Muñoz, Ada M. Patterson, The Living and the Dead Ensemble
Curator: Tim Roerig
Persdossier
PDF - 292 Kb
Downloaden
Veerle Ausloos
Pers en Communicatie, Z33 - Huis voor Actuele Kunst, Design en Architectuur